Apple Withdraws iOS 8.0.1 update crashes
Actually, it seems that Apple Inc. pulled back an update for the Apple's latest operating system iOS 8 after the new software caused some people to lose cellular service.
Few days after releasing the latest version of its iOS 8, the mobile software Cupertino, California-based company earlier today, withdrew the update when scores of customers experienced dropped cellular service so they couldn't make calls. Also the fingerprint reading Touch ID feature was also not working after the latest update, according to some customers.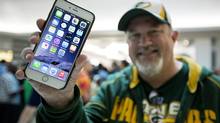 Apple said in a pres release that it had received reports of the issues with the latest update, known as iOS 8.0.1. Also Customers can still use iOS 8, which was released last week.
"We are actively investigating these reports and will provide information as quickly as we can," Trudy Muller, a spokeswoman for Apple, said in the statement. "In the meantime, we have pulled back the iOS 8.0.1 update."
Most of Apple apps like Facebook, Dropbox and many others have been crashing since the update more frequently. According Crittercism Inc., an analytics firm, iOS 8 causes applications to crash about 3.3 per cent of the time, or 67 per cent more than last year's version. Many users have also complained about having to delete photos, videos and apps to make room for the new software.